---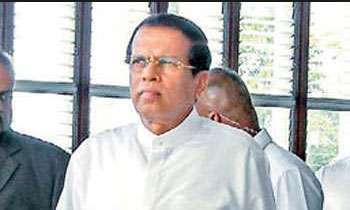 In a hard-hitting statement yesterday, President Maithripala Sirisena called on NGOs which sympathized with drug dealers to remove their masks and look at the threats the children of our country faced due to drugs.
Addressing an event in Mullaitivu to mark the launch of the national drug prevention week, the President said there were politicians and officials who posed as gentlemen but were in fact involved in drug business.
He said a novel approach would be taken to eradicate drug from this country and pledged that the stance he took to implement capital punishment for drug racketeers would not change in any way. He was addressing the anti-narcotic programme at the Vidyanandan Maha Vidyalaya in Mullivaikkal, Mullathivu.
He also launched the hotline '1984' which can be used by the general public to provide information regarding narcotics or organized crime.
"The files of drug racketeers who had been sentenced to death have disappeared from the prisons. There are no such files in the prisons or in the Ministry of Justice .They have been stolen by the racketeers. When I went to Philippines last week, I was able to learn a lot about eradicating drugs. Philippines was a country that had been destroyed due to narcotics. I do not want to do what the president of that country did. I do not do so because there are many people who are against it. The NGOs are very powerful here because NGOs that talk about human rights take the side of only the drug racketeers. That is why they have more power."
He said that the President of Philippines was an example for world leaders when he was in Manila. According to him, the human rights organizations had said that he would be taken to Hague and punished for making the statement against human rights.
"When I was returning, I read a newspaper during my flight and that paper had also highlighted the new. Those who talk about human rights are going to protect the drug racketeers. Therefore, I will not give up the fight against drug racketeers", the President said.
" I ask human rights organizations to remove their masks and protect our children. Poverty has increased due to drugs because it is the poor who use drugs. I would like to ask as to why the human rights organizations do not understand this reality. Next week, a special team would come to this country with the objective of controlling the drug menace," he said.
" I must tell all of you that I decided to hang the drugs racketeers who have been sentenced to death. I declared it recently. There are no files for the people who are condemned to death. They have disappeared. It is only the judgment that is available in the court. The reason is that drug racketeers have stolen them. There is one file in this country. That belongs to a Pakistani. I need not hang a Pakistani. But I want to find out one or two files of Sri Lankans. I am going to reveal the details of the officers who have disguised as gentlemen in due course." (Sithum Chathurang)