---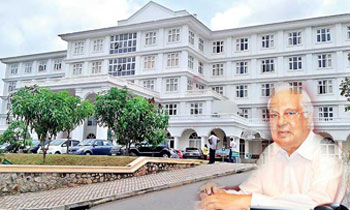 The Neville Fernando Teaching Hospital (NFTH) will be handed over to the government on Monday, Dr. Neville Fernando said yesterday in its official Facebook account.
"The NFTH was built for the use by SAITM using my personnel funds. It will be handed over to the State for the benefit of all. I hope that this gift will help uplift the country's health service. I'm proud of being able to give a helping hand to my country and to my fellow people," he said.
The hospital will be acquired by the government with its equipment and the hospital staff.
The NFTH which is one of the largest privately-owned hospital was built at a cost of Rs.3,550 million on 2013.
The Government recently announced that the hospital would be taken over and will function as a state-owned hospital to resolve the SAITM issue. (Thilanka Kanakarathna)