---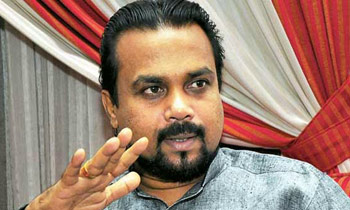 The National Freedom Front (NFF) led by MP Wimal Weerawansa said today the party's decision to act independently of the United People's Freedom Alliance (UPFA) has been misinterpreted.
It said the decision was taken to strengthen the joint opposition under the leadership of former president Mahinda Rajapaksa.
"The UPFA led by President Maitripala Sirisena acts as an ally of the government. Although the NFF contested the election on the UPFA ticket, it continues to act as party in the opposition. However, when allocating slots during parliamentary debates the group of UPFAers in the government are favoured better. The NFF has also been denied the opportunity to attend the party leaders' meeting and make speeches under Standing Order 23/2," the NFF said.
Its propaganda secretary Mohamed Mussamil in his statement on behalf of the party said the NFF had requested Speaker Karu Jayasuriya on April 5, 2015 to recognize it as a separate party in Parliament but the request was not granted and as such we are making a fresh request to the Speeker.