---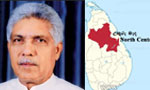 The Provincial Minister of Irrigation of the ruling UPFA North Central Provincial Council H.B. Semasinghe said that he attended both SLFP rallies held on the May Day in Galle and Kirulapone, Colombo.
He stated that he attended the rally held in Galle presided over by President Maithripala Sirisena and also participated at the May Day rally of the Joint Opposition held in Kirulapone presided over by former President Mahinda Rajapaksa.
Mr. Semasinghe opined that he was the present organiser of the Anuradhapura East electorate and he was the senior most among the SLFP organisers in Anuradhapura. He said he had and had engaged politics of principles and was never eagre to see a split in the party.
Meanwhile, two Ministers of the NCP Peshala Jayaratne and K. H. Nandasena participated in the Galle rally, while Minister of Transport and Sports S.M. Ranjith Samarakoon and Minister of Agriculture, Housing and Fisheries R.M.P.B. Ratnayake kept away from attending either of the rallies.
Samarakoon said that the leaders of the party, acting in this manner would only lead to a split in the party. He said he excused himself from the rallies to show his displeasure.
Meanwhile, Ratnayake stated that he was indisposed and he did not attend any rally. (Athula Bandara)