---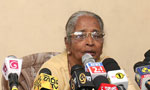 The Frontline Socialist Party (FSP) Activist Kumar Gunaratnam's mother Rajamani Gunaratnam today requested the Government to give Sri Lankan citizenship to her son and ensure his safety during the imprisonment.
Speaking at a media conference organised by the FSP, Ms. Gunaratnam said she was afraid of her younger son's life, after he was transferred from Kegalle Prison, where he was detained for five years to the Anuradhapura Prison, without giving a fair or proper reason.
She said when there were many other prisons apart from the Anuradhapura Prison, the Prisons Department's sudden move to send him to a far place like that raised her suspicion.
Gunaratnam's mother asked the Government as to why Sri Lankan citizenship could not be granted to her son, who was born in Kegalle, studied at St. Mary's College, Kegalle and later completed higher studies at the University of Peradeniya, where Kumar first engaged in political activism.
"My elder son Ranjithan Gunaratnam, who was the Convener of Inter-University Students' Federation in 1989 was also abducted. I lost him. I can't lose my second son too. I fear for his life now because he was taken to a very far place from me. When he was held in Kegalle Prison, I used to visit him often. Now, I can't go to Anuradhapura, whenever I want to see my son,"
"He is a patient, he has diabetes. We had given him medicine for diabetes, when he was in Kegalle. But, now we are deprived from giving him medical care too.
"I am afraid that his life would be in very dangerous situation. I request relevant authorities to give him the Sri Lankan citizenship and let him live free like others," Gunaratnam's mother said before she broke down in front of the media.
Meanwhile, Gunaratnam's sister Niranjala Gunaratnam said according to the Solicitor General at AG's Department, the issue with regard to the request for SL citizenship was over, after the verdict was given for the Kumar's case on alleged violation of Immigration and Emigration Laws.
FSP Propaganda Secretary Pubudu Jayagoda said they would discuss the issue with the Commissioner General of Prisons Department regarding 'abnormal sending of a prisoner' to a far place, violating normal procedure.
He accused the Government of taking political revenge by making a non-committal approach with regard to his request for citizenship.
He stated that the FSP would seek assistance from the national and international human rights organisations against the violation of the rights of their comrade. (Piyumi Fonseka)
Video by Richan