---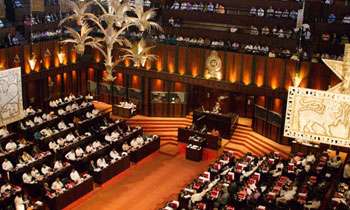 The Mutual Assistance in Criminal Matters (Amendment) Bill was passed with Amendments amidst chaos in Parliament this morning.
Parliament went into chaos when the joint opposition accused Speaker Karu Jayasuriya of not inquiring from the House whether it was agreeable to the second reading of the Bill.
Speaker Jayasuriya who responded said he made the inquiry before going into the committee stage.
A division was called by the opposition for one amendment. The amendment was passed with 97 members voting for and 24 against. Opposition MP Chandima Weerakody who raised a point of order said some of the opposition MPs have been held back by the police who were on duty near the Jayanthipura Junction.
Joint Opposition Leader Dinesh Gunawardane also came up with the same allegation. Speaker Jayasuriya said the police have opened the road one hour before the time the matter was raised by the MPs in the House.
The Bill was later passed with 95 members voting for it and 31 against. Kurunegala District MP and former president Mahinda Rajapaksa's participation in the vote was a notable feature as he has been absent during the voting time of almost all Bills brought into the present Parliament.
Approval of the Cabinet has been granted to amend the Mutual Assistance in Criminal Matters Act, No.25 of 2002, for identifying the offences relating to Money Laundering and the necessity of criminalizing the offences related to bribery outlined in Article 16 of the Convention of the United Nations against Bribery and Corruption and the recent developments pertaining to computer systems and data related criminal offences, reflecting the international obligations of Sri Lanka in the present context.
Another new feature in the amended Bill is that the Central Authority in Sri Lanka (the Secretary to the Ministry of Justice) can authorize any other officer not below the rank of a Senior Assistant Secretary, to act on his behalf of the Central Authority for the purpose of this Act.
The Central Authority is given the power to designate competent authorities (which can be a law enforcement authority) who will process information to request as directed by the Central Authority. (Yohan Perera and Ajith Siriwardana)