---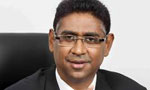 Local Government and Provincial Councils Minister Faizser Mustapha today ruled out the possibility of elections for local authorities this year, because of work involved in delimitation.
The Minister said the committee, assigned for sorting out anomalies in delimitation of electoral wards, would be given an extra month to finish the task.
"The time limit granted for this purpose will be extended up to September. Earlier, it was to end on August 31," he said.
"We have to conduct the election under the ward system in fairness to all the communities. It is my responsibility as the subject minister to take steps in this direction. Earlier, it had been done at the discretion of the political authority, without consulting people and civil society leaders. The UPFA Secretary wants me to conduct the elections as soon as possible. I cannot act according his dictates. As the Minister, I am responsible for the whole country and its people but not for the UPFA as a party," he said.
The Minister said some parties and organisations were pushing him for early Local Government elections.
"I would like to ask how these parties sort out anomalies in the creation of electoral wards," he said.
Video by Buddhi