---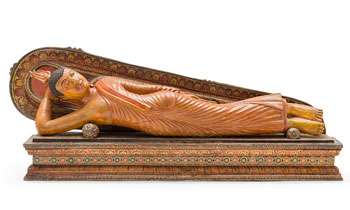 The first comprehensive survey of Sri Lankan art organized by a US museum-The Jewelled Isle: Art from Sri Lanka-would be presented by the Los Angeles County Museum of Art (LACMA), Art Daily reported on Monday.
Drawn in part from LACMA's collection of Sri Lankan art, and including numerous domestic and international loans, the exhibition presents some 240 works addressing nearly two millennia of Sri Lankan history.
The Jewelled Isle presents a timely exploration and celebration of a geographically complex, ethnically diverse, and multicultural South Asian hub.
The exhibition is curated by Dr. Robert L. Brown and Dr. Tushara Bindu Gude, of LACMA's South and Southeast Asian Art Department, and is designed by Los Angeles-based architecture firm Escher GuneWardena Architecture.
"LACMA has a long history of collecting South and Southeast Asian art and its Sri Lankan holdings are more expansive and diverse in range than those found in any other U.S. collection," said LACMA CEO and Wallis Annenberg Director Michael Govan. "These works are at the heart of this exhibition."
According to the exhibition curators, "Sri Lankan culture developed in a complex web of foreign influences and local customs that have never been fully explored in previous exhibitions. These multiple influences were woven together in a fusion that is uniquely Sri Lankan. The art shown in The Jeweled Isle reflects this development and also offers a window onto Sri Lanka's rich history and culture."
The image of a bejewelled isle, invoked in ancient Sanskrit texts and in Greco-Roman accounts of Sri Lanka's precious gems, inspired numerous literary descriptions of the island's wealth and lush tropical beauty.
The notion of "jewels" is apparent throughout the exhibition, which includes precious decorative objects fashioned from gold, silver, and ivory, and 19th-century photographs documenting Sri Lanka's extraordinary monuments, people, landscapes, and flora.
Following the introductory gallery, The Jewelled Isle is loosely organized around three chronological sections that examine the major capitals of Sri Lankan history: Anuradhapura (3rd century BCE–10th century CE), Polonnaruwa (11th–13th century), and Kandy (15th–19th century).