---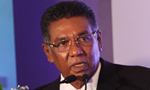 The Defence Ministry has decided to re-employ technically and professionally experienced retired officers of the armed forces to address the severe shortage of officials in those categories in the government and semi-government sector, a senior official said yesterday.
Defence Secretary Karunasena Hettiarachchi told the Daily Mirror that the programme was being implemented on the instructions of President Maithripala Sirisena and the Cabinet approval had been granted recently for the programme.
"A considerable number of officers in armed forces, who possess technical and professional qualifications and experience, retire from the service annually due to the completion of 22 years of service and with the completion of maximum period an officer can serve in a certain post. We have observed that many of these officers who engage in Engineering, Surveying, Medical service, Nursing, Supplementary and Interim Medical Services, Technology and Sports retire at the age of 42-45 years but are eligible to perform their duties with their good physical and mental conditions. As a solution to the lack of technically and professionally skilled persons in the government field the Ministry of Defence has decided to launch this project on the advice of President Sirisena," Mr. Hettiarachchi said.
He said a database of such retired officers would be maintained by the Ministry enabling to obtain their service as and when necessary to public institutions on contractual basis.
President Sirisena in his endeavor to increase productivity in the public and semi-government sector also expects to establish a database of bilingual and trilingual resource persons and to make those details open for all government and non-government institutions and for the public to obtain their service where necessary. (Sandun A Jayasekera)