---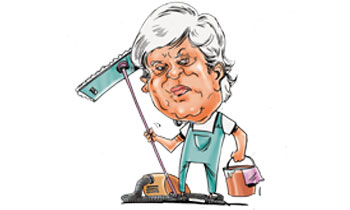 Minister of Petroleum Resources Development Arjuna Ranatunga stated that most of his ministerial colleagues call him the chairman of cleaning services.
He made this comment during a function to celebrate the New Year held at the Ceylon Petroleum Corporation (CPC) yesterday, the ministry said in a statement.
Minister Ranatunga further stated that he hoped to reduce corruption as well as initiate development projects within last 6 months."Earlier, Lanka OIC was a part of oil distribution. Some people are trying to be a third or fourth party to this. We don't prefer privatization and the responsibility of protecting this institution falls on us. Our workers have completed 99.9% out of the work. We commenced a project to construct oil tanks after 40 years. We expect to commence the construction of another 6 in six months time. No one wanted to construct a refinery system. But we expect to construct it soon. Some people are attempting to stop this project while suggesting that we import oil at higher prices. I don't intend to stick around if they are not allowing me to work", the minister said.
"I always take decisions which are favorable for the country. When the President and the Prime Minister handed over this ministry they requested me to solve all the issues which existed in this ministry. Most of my colleagues jokingly call me the chairman of cleaning services. I have already worked hard and made institutions profitable," Minister Ranatunga stated.