---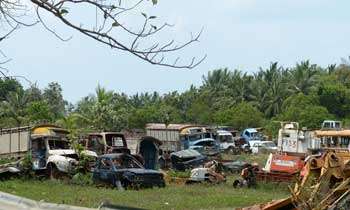 More than 1,500 Government-owned vehicles under the purview of the nine Provincial Councils were not in running condition, a report issued at the Cabinet briefing revealed.
This was revealed following a proposal made by Prime Minister Ranil Wickremesinghe, in his capacity as the Minister of National Policies and Economic Affairs, during the Cabinet meeting on Tuesday.
"Accordingly, the Cabinet of Ministers considered the following details submitted by the Minister of Finance and Media, and decided to instruct the respective officials to dispose of the vehicles that were not in running condition and owned by the Provincial Councils expeditiously," the Cabinet report said.
"A total of 14,354 vehicles are in running condition at Provincial Councils. The number of Government-owned motor vehicles, which are in running condition at Provincial Councils as follows: Central Provincial Council-1,716, Eastern Provincial Council-1,579, North Central Provincial Council-649, North Western Provincial Council-1,322, Northern Provincial Council-1,719, Sabaragamuwa Provincial Council-1,197, Southern Provincial Council-1,600, Uva Provincial Council-1,009 and Western Provincial Council-3,563.
"The number of Government-owned motor vehicles which are not in running condition at Provincial Councils as follows: Central Provincial Council-175, Eastern Provincial Council-423, North Central Provincial Council-43, North Western Provincial Council-80, Northern Provincial Council-236, Sabaragamuwa Provincial Council-71, Southern Provincial Council-123, Uva Provincial Council-57and Western Provincial Council-384. (Chaturanga Samarawickrama)