---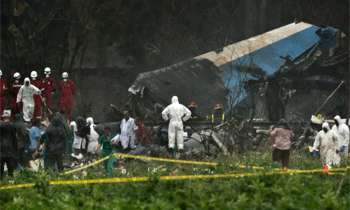 More than 100 people are believed dead Friday after a Cubana de Aviacion Boeing 737-200 crashed on takeoff from Havana's Jose Marti International Airport, according to Cuba's state-run media.
Three female passengers were in critical condition after surviving the crash into thick vegetation just miles from the runway, the state-run newspaper Granma reported.
Flight DMJ 0972, with at least 104 people on board, was headed to the eastern Cuban city of Holguin when it plummeted into in an agricultural area in the Santiago de las Vegas neighborhood at 12:08 p.m., according to Granma. A state radio broadcaster said there were 105 passengers -- 100 Cuban and five foreigners.
Orestes Bentancour, who lives near the crash site, told CNN that he was drawn out of his home by the "enormous noise" the plane made on takeoff. He said the plane appeared to swerve to one side and revved its engines before crashing.
Five crew members on board were Mexican nationals, according to Mexico's Civil Aviation Authority. Global Airline, which operated the flight, said there were six crew members, all Mexican nationals.
The nearly 30-year-old Boeing 737-200 was owned by the Mexican airline Damojh and leased to Cubana de Aviacion, the Civil Aviation Authority said in a statement. The charter flight "suffered a failure" and crashed about six miles from the airport.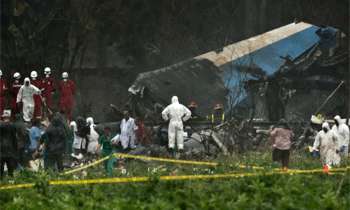 Search and rescue personnel descended on the area -- with some residents helping -- as firefighters tried to extinguish the flames, according to photos and video from the scene.
The Granma report included a photo from an airport terminal of a towering plume of black smoke rising in the distance.
A large fireball followed by a plume of smoke was visible near the airport on the outskirts of Havana, according to witnesses.
Cuban President Miguel Diaz-Canel was at the scene of the accident, the newspaper reported.
Diaz-Canel later offered his condolences to the victims' families and told reporters the cause of the crash was under investigation.
The fire at the crash site had been extinguished and no one on the ground was injured, he said.
Mexican President Enrique Pena Nieto offered his condolences via Twitter.
Boeing issued a statement of condolence and said, "A Boeing technical team stands ready to assist as permitted under US law and at the direction of the US National Transportation Safety Board and Cuban authorities."
Holguin is about 435 miles east of the Cuban capital. Cuban state media originally reported the flight was bound for Guyana.
Cubana de Aviacion -- the national carrier -- has had to ground some of its aging fleet because of safety issues, though the cause of Friday's crash is unknown.(CNN)