---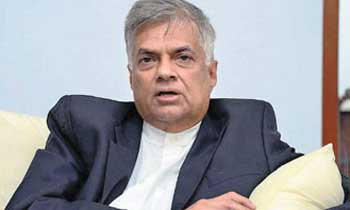 Saying there are government regulations which are barriers to competitiveness among Sri Lankan entrepreneurs, Prime Minister Ranil Wickremsinghe said today there would be a round of liberalization before the next budget and a system whereby the minimum wage for the Sri Lankan working class would be US$400.
He said this at a forum organized by the European Chamber of Commerce in Sri Lanka on the theme, 'Sri Lanka-the next Asian Economic Miracle'.
The Premier said he would make a statement on Sri Lanka's economic policy prior to the presentation of the budget and underscored the fact that GSP plus was the key to Sri Lanka's development.
"We have the ability to develop our economy and strengthen our democracy. Open market leads to open societies and we are committed to both. Now this is a challenge for Sri Lankan domestic investors. How do we utilize these opportunities. GSP plus gives us the opportunity to deal with 6,500 products that could be marketed in Europe. I don't think we can manufacture 6,500 products, no one can. What are the areas we are going to focus on. How do we go ahead. It is by collaborating with foreign direct investors. We should make sure that our private sector is strong enough for investment. I know there are Government regulations which are actually barriers. Before the next budget there will be another round of liberalization. I hope to make a statement on the economic policy prior to the budget. We are having a tight fiscal policy because of the debt situation. We need to find space to pay the debts which amounts to Rs.4.2 trillion," the Premier said.
"We need to look at the productivity as well, productivity means a workforce dedicated to productivity. Part of the gains will have to be shared with the workforce. We have to move towards a minimum pay or allowances of US$400. There is a large low wage-based industry developing in Myanmar and Bangladesh. We cannot and should not compete with them. The world is changing, new technologies are coming in. So where do you want be. Is it the low end T-shirts industry or middle part of 3D printing industry. We are also looking at tourism, we are opening up for domestic tourism. We have only one direct flight to Europe by Srilankan airlines, if others want to fly it is open. So we will be inviting you to discuss with you on how to make use of these opportunities and how to work with you, to create jobs and incomes for the people of Sri Lanka. This is a time where we can stage a revolution. This could be done through peaceful means."
He said the present government had to clear things up in the economy during the past two years. "Alakeshwara got a marshy land but he built up Kotte out of it. We too got a marshy land where there were snakes, jackals, dogs and what not. We had to clean it up for two years just like Alakeshwara who built up Kotte. Kotte was developed with the revenue gained from selling spices and cinnamon and we too will have to spend for the development through funds generated from our own economy," the Premier said.
Finance Minister Mangala Samaraweera said the government was looking at sweeping reforms in the financial sector under which a new tax system aimed at changing the direct/indirect tax ratio to 60 /40. He said commercial laws would also be changed while the Customs Act would be amended.
Development Polices and International Trade Malik Samarasinghe said the free trade agreements which were in the pipeline would soon be a reality.(Yohan Perera)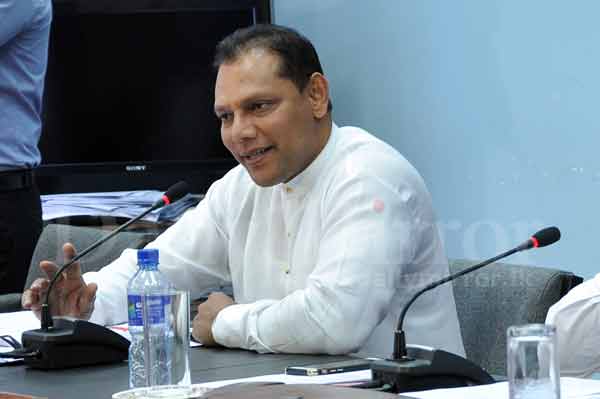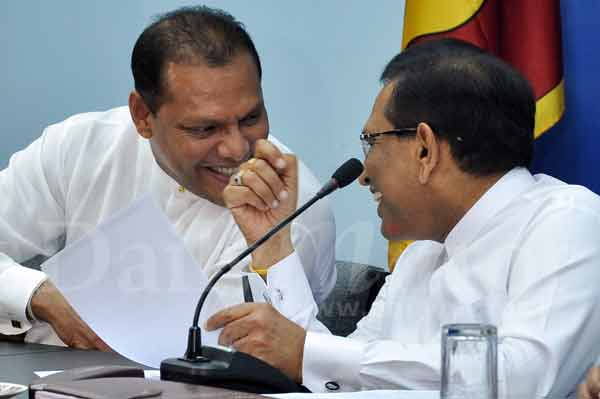 Pix by Nisal Baduge