---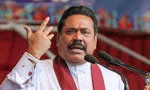 More details on the government's move to privatise Central Bank's function of monitoring financial institutions will be unveiled to the people soon, former President and joint opposition MP Mahinda Rajapaksa told Parliament today.
Speaking during the debate on the second reading of the budget said this move will take the power of the House on State finances away. He reminded that the power on State finance is vested with Parliament under Section 146 of the Constitution.
"The function of monitoring of the Central Bank is going to be handed over to a company owned by the personal friends of key government officials" he said.
Mr Rajapaksa said the present UNP led government is slated to implement the 'regaining Sri Lanka' programme once again and privatise State properties." What the 2002 UNP government did was to sell State properties. It is sad to see a section of SLFP joining the UNP in carrying out this exercise" he said.
He said true SLFPers should work according to their conscience and uphold the party's policies.
He added that giving 15,000 acres in Hambantota District to foreigners is a dangerous move. "It will create a foreign economic colony," he said.
Mr Rajapaksa said the government is harping on the borrowings of the previous regime while doing the same thing.
"The government has acted like a Grade 2 student by getting into a dispute with China with regard to borrowings," Mr Rajapaksa added. (Yohan Perera)