---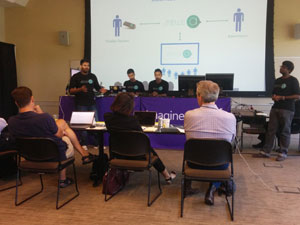 BitMasters, the Moratuwa University Engineering Faculty team, who is currently in Redmond, US, made an impressive pitch at the world finals of this year's Imagine Cup, the premier student technology competition organized by the tech giant, Microsoft.
They presented 'Amplus' an intelligent digital signage solution under the Innovation category, which they believe could revolutionise the global advertising industry.
According to BitMasters, the global digital signage business is set to be a US $ 20 billion industry by 2020.
Imagine Cup 2016 is held under three categories—Games, Innovation and Global Citizenship.
The top three teams in these categories will receive—US $ 50, 000 (first place), US $ 10, 000 (second place) and US $ 5, 000 (third place).
The three first-place winning teams will move on to the Championship round, where one team will be crowned the Imagine cup World Champion, which is scheduled to take place this Friday.
The winning team will have the opportunity to have a one-to-one mentoring session with Microsoft CEO Satya Nadella. (Indika Sakalasooriya in Redmond, Seattle)