---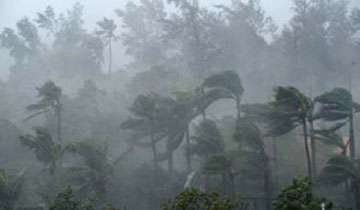 The South West monsoon has wreaked havoc in many parts of the country already claiming four lives while six remain missing, Disaster Management Centre (DMC) said.
According to the data put out by the DMC three people have died as a result of lightning that had accompanied heavy rains. Two persons have died in Trincomalee, and one in Ridimaliyadda in the Badulla district as a result of lightning. A school teacher had died in Badalkumbura in the Moneragala District when a tree which had got uprooted fell on her. Heavy winds have been reported from the Moneragala District.
A mini-landslide in Marikkar Street in Kalutara District has damaged two houses, one house has been damaged in Beruwala.
The 150-year-old tunnel which connects Kandy to Aniwatte has become vulnerable with the adverse weather conditions. The authorities have closed the tunnel. The residents say they are inconvenienced by this move.
The central province has received a rainfall of more than 100mm during the past days. Colombo has also experienced a rainfall of 100mm.
Heavy rain, strong winds were predicted in both inland and sea areas in the coming days due to the South West monsoon which is said to be breaking in. Heavy showers which may exceed 150mm was predicted in the Sabaragamuwa province while showers of more than 100 mm were predicted elsewhere.
Fishing and naval communities were advised to keep away from the sea. (Yohan Perera)