---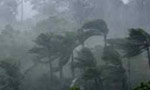 De-activation of the Southwest Monsoon had made the rains to dry up, Department of Meteorology said today.
A spokesman for the Department said the rains which are usually experienced during the Southwest Monsoon had become a non event during the past few days.
"Monsoon is not active always as some days it becomes inactive and become reactivated on other days," the sources from the Department of Meteorology said.
Almost all parts of the country were dry today while the temperature in many areas was high. Accordingly, the highest temperature of 37.2C degrees was recorded from Moneragala while Hambantota recovered a temperature of 35.2C, Batticaloa 36.7C, Mattala 35.6C, Polonnaruwa 35.8C, while Vavuniya recorded a temperature of 34.7C degrees.
However, a few showers were expected tomorrow in the Sabaragamuwa and Southern provinces and in some areas in the Western Province
Fairly strong winds at times are expected over the island, particularly over western slopes of the central hills. (YP)