---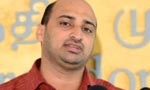 National Freedom Front Spokesman Mohammed Muzammil, was today ordered to be further remanded till July 7 by the Fort Magistrate Lanka Jayaratne over the inquiry conducted against him for allegedly misappropriating Rs. 6.1 million public funds by misusing a vehicle attached to the Presidential Secretariat between 2009-2014.
The FCID filed charges under the section 5(1), 'Dishonest Misappropriation, Criminal Breach of Trust, Cheating, Forgery and Falsification of Accounts' of the Public Property Act and the Section 3, that 'Any transaction derived from illegal activity', of the Money Laundering Act.
Prosecution also charged the suspect with the allegations of dishonest misappropriation of property, abetment, criminal breach of trust and cheating under the sections 100,386,389 and 400 of the Penal Code.
The prosecution alleged that the suspect was given a vehicle from the Presidential Secretariat in 2009 under the previous government.
Later, following the defeat in 2010 Parliamentary elections by the suspect, he was appointed as an Acting Director of the Sri Lanka Engineering Corporation.
However, the Police said that the suspect had not returned the vehicle, he obtained from Presidential Secretariat in 2010.
Then deceiving the Engineering Corporation by stating that the vehicle he obtained from the Presidential Secretariat as his private vehicle, the suspect had obtained funds also for his transportation from the Engineering Cooperation, said FCID.
The Police told that the money was deposited under the name of the suspect's wife.
Appearing for the suspect, Counsel Gamini Perera told Court that his client was suffering from a major illness, for which he had to take treatments every two hours.
He requested the Magistrate to allow submitting the written bail application over his client's medical condition in court within a short time period by considering the situation as a special circumstance.
Acceding to the request, the Magistrate allowed defence counsel to submit a written bail application on July 7 based on the suspect's health condition. (Shehan Chamika Silva)
Video by Courts Prasanna