---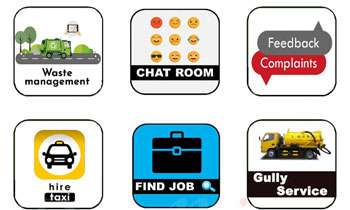 The Minuwangoda Urban Council (MUC) together with the Western Provincial Council (WPC) launched a mobile app in a bid to streamline the garbage collection process in the local government area.
The pilot project, will cover the Minuwangoda residential area for the moment but can be considered the stepping stone for the development of a communicative digital platform between residents and officials.
The project implemented in collaboration with the Ministry of Local Government and the Waste Management Authority of the Western Province will inform residents of the dates and times garbage collection will take place in the area. Residents can also lodge complaints relating to garbage collection, upload pictures of areas and garbage dumps that need to be cleared.
Speaking of the advantages of the app, Director of the Western Province Waste Management Authority Nalin Mannapperuma said many residents were not aware of the schedules for garbage collection.
"Garbage has been a problem that has plagued us time and time again. We believe that the residents who do not follow through with the guidelines set out by us for garbage collection and segregation is due to the fact that they are not privy to the most basic information. The app will ensure that residents are in the loop and can work accordingly."
The app will directly connect residents with the officials and will allow officials to communicate as and when necessary. "The digital platform has allowed for a direct method of communication between the residents and the officials. The residents are not inconvenienced at any given time as the relevant information is at the tip of their fingers and officials are able to clean areas and respond to issues faster because of the app," Mannapperuma said.
MUC Chairman Neil Jayasekera who also attended the launching ceremony said residents could avail themselves of a wide range of services from the local government body via the app. "We have distributed handbills regarding the app. We have also taken measures to paint all the garbage collection trucks in the same colour and set up GPS facilities in them. We hope that the measures we have taken will help streamline the issues related to garbage in the area."
Digital equipment in the garbage trucks such as mobile phones and the GPS devices were provided by the Waste Management Authority and the Local Government Ministry.
The app was invented by Rajarata University B Sc Graduate Mahesh Madusanka, who is also a past pupil of Embilipitiya Janadipathi Vidyalaya.(Tissa Kotinkaduwa)