---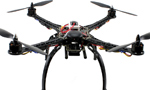 Quad Copter, an aircraft used for providing instant information to the mission control centres from the air in connection to Global Disaster Risk Analysis, Prevention and Mitigation Application, was locally produced by the Ministry of Defence's (MoD) Centre for Research and Development, the MoD announced today.
Addressing the official gathering of devolving the final project of the military equipment produced by them to Defence Secretary Karunasena Hettiarachchi at the MoD, Brigadier Dr. Thiran De Silva said the Quad Copter had been locally produced for the first time and they had planned to produce more such drones for the UAV regiment of the Sri Lanka Army.
"The Department of Survey and Disaster Management Centre has successfully completed the mapping experiments of the Quad Copter in the Batticaloa District. The project also included with locally produced Regimental Accounting Software Package, Field artillery Simulator, K – 8 Flight Simulator, Hi Tech Soldier and a Small Arm Firing Simulator," he added.
Meanwhile, addressing the gathering, Defence Secretary Karunasena Hettiarachchi said the MoD's Centre for Research and Development had completed these projects spending Rs. 10 million and Sri Lanka had to bear an expense of Rs. 1600 million if they were imported.
"This is the final result of the dedication of the well-skilled officials in the MoD. This would also be a remark in the future of the defence field. As the MoD, we have full faith in these officials. Fortunately, we don't have any financial or technical issues during this procedure. We have skilled experts in government universities to support us," he added.
He appreciated the Government's aid in this procedure and added that the Government generally allocated 10 per cent of the annual budget to the defence sector.
He said the MoD had decided to launch a special framework in future making the MoD's Centre for Research and Development an independent institution while increasing the recruitments to this institute.(Kalathma Jayawardhane)