---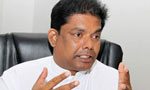 The missive issued to the media not to use the term 'Joint Opposition' was not an official statement of either the Government or the Ministry, but merely a request letter issued by the Ministry Secretary based on his personal views, Minister Gayantha Karunathilake said.
He said he, too, received a copy of the letter from Ministry Secretary, Nimal Bopage, but it reached him after he released it to the media. "I was in Galle when I received it and as I went through it, I realized there was nothing serious contained in it," the minister told Daily Mirror.
When asked if a Secretary was allowed to issue such a letter, he reiterated that it was simply a letter sent by the Secretary to the media based on his personal views.
Commenting on the use of the name 'Joint Opposition', the minister said the matter would discussed in Parliament before coming to a decision on the issue."There is no need to panic. The letter is binding. Misleading interpretations should not be made into the matter. We are committed to establishing media freedom in the country and won't allow anyone to harass the media," he said.
Earlier the Ministry Secretary, in a missive, said that there were reports of some media organisations and journalists misusing the freedom given to the media to promote the 'Joint Opposition' and said such journalists could be legally liable. (Lahiru Pothmulla)