---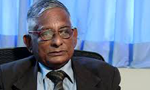 Missing Persons Commission Chairman Maxwell Paranagama had stated that four of those who had gone missing had been found while two or three of them were languishing in Maldivian prisons responding to a question raised by media personnel after the hearings ended in Vavuniya.
He said that investigations were held based on evidence placed with the Commission.
"Four of them had been found now and we will release the details soon. We have found that two or three of them who had gone missing are languishing in the Maldivian jails. We have also come to know of a person alleged to have gone missing in Welioya had gone abroad via the Katunayake Airport accompanying another woman. Investigation on others was progressing. Though we could not find them all, steps have been taken to respond favourably," he said.
We had more complaints on the Army in the North while many complaints had been recorded blaming the Tigers in the Wanni. In addition, PLOTE, EPRLF and the EPDP of Douglas were also answerable.
Around 1,049 people in Wanni placed their evidence and 306 new requests were made during the six days of hearing in the Wanni. The new requests had increased as the people had placed their confidence in us, he said.
"We cannot tell the exact number of those gone missing as yet because the relatives of missing persons living in different parts had made separate requests to us," Chairman said. (Navaraththinam Kapilnath)