---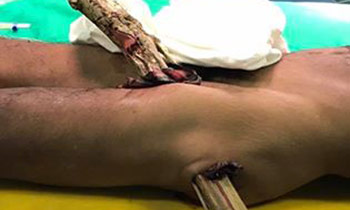 A coconut plucker who lost his grip and had a nasty fall onto a pointed Gyridicilia stick which pierced through his left thigh, was later operated at the Karapitiya hospital, and the wooden stick of about five feet safely removed after a surgery which lasted about two and half hours.
The victim Edirige Piyasiri (55) is the father of four children. Plucking coconuts is his main livelihood. On the day of the incident (12th June) he had plucked coconuts from 31 trees belonging to a businessman of the area. He had then climbed onto another tree continuing his routine, and while attempting to climb down from the tree he had lost his grip, when the branch he was holding had given way, and fell on a fence of Gyridicilia wood. With the impact of the fall a stick pierced through his left thigh causing severe injuries to him. He was first admitted to the Embilipitiya Hospital but later transferred to the Karapitiya Hospital where he was subjected to an operation by the Karapitiya Teaching Hospital's organ transplanting specialist, Doctor Ranjuka Ubesiri.
The team of doctors at the Karapitiya Teaching Hospital led by Dr. Ubesiri had performed this operation lasting about two and half hours and removed the wooden stick which had pierced through the left thigh of Piyasiri. Dr. Ubesiri commenting on this rare experience said that first he had to stop the blood circulation in the leg of the victim and the wooden stick safely removed. The patient had narrowly been saved of any damage to the main arteries. After the operation the blood circulation of the patient is now normal. A MRI scan is to be done to ascertain whether any damage had been caused to the respiratory track of the patient.
He advised that in the event of a similar incident where the body is pierced by sharp edged sticks, attempts should not be made to remove them, as it might lead to a drain on the blood. (D. G. Sugathapala and Sumathipala Diyagahage)