---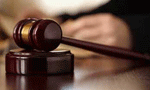 I. M. Dhammika Ilangasinghe, the Chief Magistrate of Minuwangoda was interdicted on Saturday (23) by the Judicial Service Commission following an inquiry.
An inquiry was launched by the Commission following several complaints.
Sources at the Magistrate's Court said officials from the Commission had visited the Court on Friday (22) and met the staff for further inquiries.
Several case proceeding books were also taken by the officials, sources said.
Ms. Ilangasinghe has left her official residence after the interdiction. (Tony Karunanayake)