---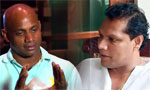 Sports Minister Dayasiri Jayasekera yesterday intervened to defuse growing tension between National Cricket Selectors and the Cricket Board after Chairman of Selectors Sanath Jayasuriya tendered his resignation citing 'interference'.
Jayasuriya who had reportedly forwarded his resignation to the Minister of Sports on Wednesday (21) met the Minister of Sports last morning to air his grievances before the man who appointed him and his committee in April.
Minister Jayasekera when contacted confirmed the meeting with the legendary cricketer in his office last morning contrary to Sanath Jayasuriya who denied meeting the minister or sending his resignation in.
"Yes I met him yesterday," minister said. "He had few concerns which I will sort them out soon.
Minister admitted that Jayasuriya's main concern was the alleged interference on selection by some members of the cricket Executive Committee.
Another grievance is Sri Lanka Cricket's (SLC) decision not to send a selector on tour, a practice which Jayasuriya enjoyed during his previous term in office.
"There had been some interference or attempts by various individuals in the Executive Committee to interfere in the selection process. I will discuss this with the President and sort this out," he added.
When contacted Jayasuriya he bluntly denied the story. "No I did not give (resignation)," he said. When asked whether he met the minister he said "No, but I am waiting to meet him.
Jayasuriya took over as Chief Selector once more, little over a year after he stepped down from the role, replacing an ad-hoc committee led by Aravinda de Silva in April this year.
De Silva took charge after the Cricket Board unceremoniously sacked the committee headed by Kapila Wijegunawardane, just hours before the Sri Lanka Team's tour to the ICC T20 World Cup in March.
Wijegunawardane's committee refused to make changes to the squad named for the World T20 Tournament.