---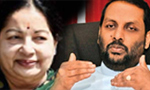 Fisheries and Aquatic Resources Development Minister Mahinda Amaraweera today welcomed Tamil Nadu Chief Minister Jayalalithaa Jayaram's request to the Indian Central Government to ban bottom trawling in Sri Lankan waters.
In a statement the minister said they would give their fullest support to Ms. Jayaram decision to allow Indian fishermen to confine their fishing using long liners instead of bottom trawling.
"Sri Lankan waters have already become a dead sea with the impact of bottom trawling resorted to by Indian fisherman. This illegal method of fishing is a threat to the aquatic resources. Even the National Aquatic Resources Research and Development Agency (NARA) have confirmed it," he added.
Meanwhile, the minister said he appreciated this move which has been internationally approved and the Sri Lankan Government would assist with financial support in case it was necessary.