---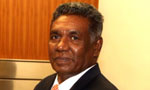 Defence Secretary Karunasena Hettiarachchi today said that military personnel deployed for former President Mahinda Rajapaksa and former Defence Secretary Gotabaya Rajapaksa's security would be removed and replaced gradually, as deploying military personnel for VIP security is illegal.
"Police and Special Task Force personnel, who are responsible for the security of VIPs would be deployed for the security of the former President and former defence secretary gradually," Mr. Hettiarachchi said.
He said even military personnel have not been deployed for the security of President Maithripala Sirisena and Prime Minister Ranil Wickremesinghe. "But former President Mahinda Rajapaksa soon after the last Presidential election had taken all his military personnel, who were assigned for his security, and it was an illegal act," he said.
He said currently, former President Rajapaksa had 103 police officers and 103 military personnel totaling to 206 in his security contingent. Another contingent of 50 police officers have been deployed for him recently in order to remove 50 military officers from the security contingent. But those 50 military officers are still with him bringing the total strength 256.
Commenting about former defence secretary Gotabaya Rajapaksa's security, Mr. Hettiarachchi said 50 military officers would be removed soon and STF personnel would replace them. (Indika Hewawitharana)