---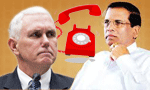 Mike Pence, Vice President-elect of the United States of America, had phoned President Maithripala Sirisena last night and invited him to visit the US in a bid to enhance bilateral relations between the two nations, the President's Media Unit said.
It said President Sirisena had extended his good wishes to US President-elect Donald Trump and Mr. Pence during the phone conversation.
Mr. Pence has commended the achievements of Sri Lanka and the progress which has been made here. He has also assured him that the US stands ready to provide any assistance to Sri Lanka. In a bid to boost bilateral relations between the two countries, Mr. Pence has invited President Sirisena to visit that country, the Media Unit said.
Discussions have been made to enhance bilateral relationships giving focus to the democratic administration and geographical status of the two countries.
Future tendencies of maritime security and disaster management have also been discussed.
Mr. Pence has informed President Sirisena that he would facilitate a meeting with the President and Mr. Trump. (Lahiru Pothmulla)