---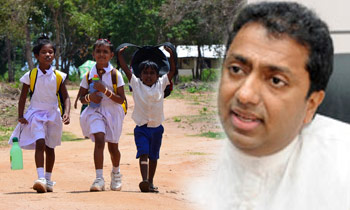 Schools should limit assigning students for outdoor activities in the severe mid-day heat that is currently prevailing in the country, Education Minister Akila Viraj Kariyawasam told school principals today when addressing a meeting at the Education Ministry.
He said the they should pay attention to the students' health and should instruct them to drink more water to remain hydrated and added that students should be asked to wear caps and use umbrellas to protect themselves from the sun.
Government and Government-approved private schools will begin their second term today.
"Principals should see that the school water tanks are cleaned regularly so as to provide safe drinking water to students and make the school environment pleasing and safe," the minister said.
On an earlier occasion the Education Ministry instructed school principals to clean their school premises by eradicating dengue mosquito breeding sites.
It had authorised school principals to obtain assistance from parents, past students' unions and school development committee members to keep school premises safe. (Chaturanga Pradeep)