---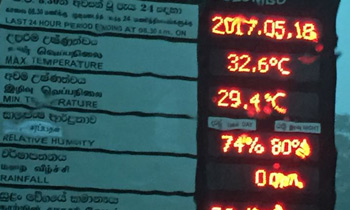 The Meteorology Department's digital display erected within its premises in Colombo was seen displaying '0'mm for the rainfall category even during the torrential rains today.
A photo which showed this peculiar weather characteristic was captured by a passerby. The digital display had been installed to show the daily weather report.
When contacted, an official of the Department said the display, which is updated automatically had stalled recently.
"Since the data is not updated automatically, it needs to be done manually. The weather characteristics on the digital display were the ones appearing the previous day. Since there was no rain on Wednesday, the display showed a '0' mm rainfall," they said.