---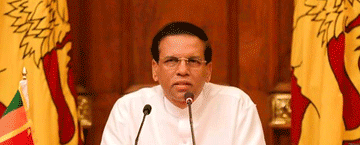 The members of the former government are now walking the streets and telling fairy tales. But the people are suffering due to the economic debacle caused by them," President Maithripala Sirisena charged yesterday.
Speaking at the inauguration of the Sri Lanka Economic Forum, held yesterday at the Cinnamon Grand Hotel in Colombo, President Sirisena said that Sri Lanka was now suffering from a debt trap of Rs. 9000 billion inherited from the Rajapaksa regime
"Politicians, government officers and all the people in the country should understand that the economic debacle was caused by the former government," he said.
"The contribution of the small and medium industries to the economy of the country is currently between 8% and 10%. If we can increase it to 20%, the national economy can be strengthened," he said.
"Despite the burden of debts that this government inherited from the previous government we will not cut the subsidies. At the same time, there must be a definite increase in production to find the money for the subsidies," he said.
He pointed out the importance of maintaining better state financial management and financial discipline in a way that would not burden the people. He said that the public and private sectors should commence a new journey together to do so.
He said people cannot be happy with the contributions to the economy made by the small and medium industries and there was a question of whether we were truly reaping the benefits of the ocean around us and other rich resources.
During this conference, attention had been drawn to taking action rather than merely talking -- with the aim of achieving the dream of becoming one of the best countries in the Asian region by utilizing our own resources.
This economic summit that was organised by the Ceylon Chamber of Commerce for the 17th consecutive year was on the theme, "Focus, Act, Deliver." It will continue today.
Finance Minister Ravi Karunanayake, Central Bank Governor Indrajit Coomaraswamy, Mr. Samantha Ranatunga (the chairman of the Ceylon Chamber of Commerce) and the foreign and local business communities were among the participants in this event. (Sandun A Jayasekera)