---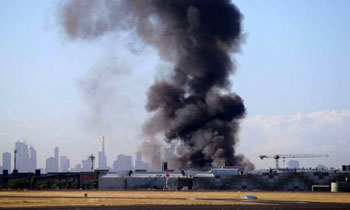 Five people have died after a light plane crashed into a shopping centre in Melbourne, Australia.
The charter flight appeared to have had a "catastrophic engine failure" shortly after taking off from the small Essendon Airport, said Victoria Police Assistant Commissioner Stephen Leane.
Everyone on board is believed dead.
"At this stage the advice we have is there are no fatalities other than on the aircraft itself," said the commissioner.
"Looking at the fireball, it is incredibly lucky that no-one was at the back of those stores or in the car park of the stores, that no one was even hurt."
The shopping centre was not open to the public at the time.
"Today is a desperately sad day," Victorian Premier Daniel Andrews said.
"A number of people have died as a result of what is the worst civil aviation accident that our state has seen for 30 years."
A spokeswoman for Spotlight, a retailer in the complex, said the plane crashed into its rear warehouse but all staff were safe.
Essendon Airport, mostly used by light planes, is about 13km (8 miles) north-west of central Melbourne.
Damage at scene
The Australian Transport Safety Bureau said it would investigate how the twin-engine Beechcraft B200 King Air crashed soon after 09:00 local time on Tuesday (22:00 GMT Monday).
Footage broadcast on local media showed fire and black smoke at the wreckage.
"Immediately I could tell it was something horrific, the explosion would have gone 30m [100ft] high and ballooned upwards in red and black," witness Mikey Cahill told the Herald Sun.
Another witness, Daniel May, said he was waiting for the shopping centre to open when the plane came down.
"There was an orange explosion and then smoke," he told The Age. "Emergency crews rushed very quickly in, soon after, and I left the area."
Police said they were evacuating the area and a nearby freeway was closed in both directions.
King Island, popular for its beaches and dairy farms, lies 245km (150 miles) south of Melbourne in Bass Strait. (BBC)