---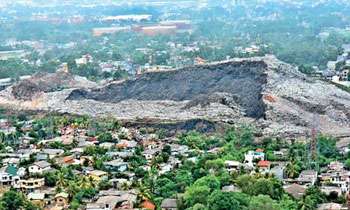 The Auditor General had held that the Colombo Municipal Council (CMC) was responsible for the death of 32 people and for the damage caused to properties as a result of the collapse of the Meethotamulla garbage dump in April last year.
The report of the audit carried out by the Auditor General's Department into the tragedy has said the CMC was responsible for it. It blamed the CMC for failing to manage the garbage disposal process effectively.
The report also stated that no scientific methodology had been followed in the payment of compensation to the people affected by the tragedy. The report had further revealed that their had been no focus on the issue of garbage disposaleven after the tragedy occurred.
The Auditor General had recommended that the Municipal Ordinance be amended and that a proper recycling system should be put in place as soon as possible.
It has been revealed that a prior warning given by an expert attached to University of Peradeniya in 2016 had been ignored. The Auditor General has stated that the tragedy would not have occurred if the authorities had taken the warning seriously.
The Auditor General had made another staggering disclosure that garbage had been dumped in Meethotamulla for several years despite a court order issued against dumping garbage at this spot in 2009. Another startling revelation included in the report was that the CMC had obtained vehicles to dispose garbage from an organization which is not specialized in hiring such special purpose vehicles.
The report of the Auditor General was presented to the CMC yesterday by SLPP member Sharmila Gonawala who claimed that compensation has not been paid to the victims of this tragedy. Mayor Rosy Senanayake assured that she will look into the report and inform the council on the situation.(Yohan Perera)