---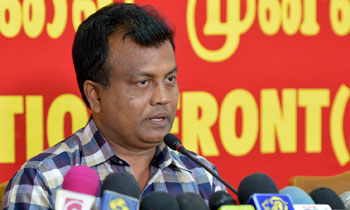 The Janatha Vimukthi Peramuna (JVP) said today it was planning to take legal action against the authorities responsible for the Meethotamulla catastrophe alleging that the authorities purposely neglected the threat to the lives of residents despite repeated warnings of the danger.
JVP Provincial Councillor Sunil Watagala said they were discussing the matter with some President's Counsel about taking legal action against the authorities as it was a case of inflicting death due to negligence.
He said the penal code ordinance, criminal procedure code and the Urban Council Ordinance had been violated in this incident and the tragedy was caused due to the negligence of the authorities.
"This is not a natural disaster. It is a murder caused due to negligence. When we visited Meethotamulla on April 11, we saw huge cracks on the ground and concrete floors and informed the relevant authorities such as the Disaster Management Ministry, District Secretary and Divisional Secretary. But they did not pay heed to our complaints. Causing death due to Negligence is a punishable offence under the criminal and penal code," he said.
Mr. Watagala said according to the Urban Council Ordinance, it was the duty of the urban council to collect garbage and dispose them properly.
He said the authorities could have taken action to prevent the possible threat to the lives of the Meethotamulla residents during three occasions when the fire erupted in the garbage dump and during the recent floods in the area. (Ajith Siriwardana)
Video by Danushka