---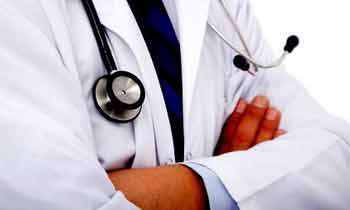 Medical specialists have threatened to abstain from private practice from June 18 if the authorities failed to restructure the tax policy on medical specialists, Association of Medical Specialists (AMS) said.
AMS President Dr. Sunil Wijayasinghe told Daily Mirror that according to the new tax policy of the government, tax amount imposed on medical specialists has increased from 12% to 24% from April 1 2018.
"If the doctor's fee is 1000 rupees, government gets VAT (Value Added Tax) Rs 150, income tax Rs 240 and Total tax of Rs. 390. So, patient pays a fee of Rs.1650 out of which minimum of Rs 390 are government taxes (23%). The amount of tax earned through hospital fee will be additional. Eventually your medical specialist gets only Rs. 760 from what you spend (44% of what you pay). Government saves money from state health and earn money from private sector," Dr. Wijayasinghe claimed.
He said the AMS and all others involved in this 'Medical Specialists' Collective' would explore all the possible avenues to settle this dispute through negotiations.
"AMS has already had several rounds of discussions with relevant authorities on this matter. A crucial meeting will be held this evening with the Finance Minister. We will resort to action only if negotiations fail," Dr. Wijayasinghe said.
"This is only applicable for medical specialists. However, those working in the government hospitals will do their hospital duties as usual providing service at government institutions," Dr. Wijayasinghe added. He advised the general public to seek treatment from the government hospitals from June 18. (Sheain Fernandopulle)