---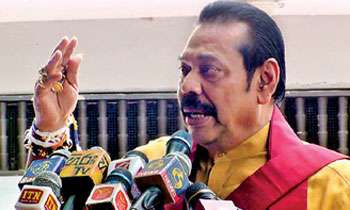 Resigned Prime Minister Mahinda Rajapaksa yesterday said that Ministers of the new regime had individually undertaken to monitor the affairs of each and every media institution in a bid to suppress media but the media had a responsibility to act without allowing the country being divided.
Addressing a meeting held at his Carlton Residence in Tangalle, former Prime Minister Mahinda Rajapaksa said:
"Each Minister is appointed to each newspaper for media control according to the information published recently. That is at the time of presenting 20th Amendment," he said.
"That is their final decision. The media and we have a responsibility to prevent the country from being divided," he said.
"We have acted as Presidents and Prime Ministers. But, this Government has taken loans only for consumption. People were burdened with taxes. Although the price of petrol reduced to 24, the Government took profits but no relief had been given to the people.
"All the people know about the Central Bank Bond Scam. Arrangements were being made to sell harbour, Mattala Airport and Highways. Plans have been made to give 35, 000 acres to a foreign army camp," he charged.
On this occasion, many people in the area including former Speaker Chamal Rajapaksa, Matara District Parliamentarians Dallas Alahaperuma, Kanchana Wijesekera, Mahinda Yapa Abeywardena, Hambantota District Parliamentarians Namal Rajapaksa, D. V. Chanaka, Economist Nalaka Godahewa and Provincial Councillors and PS members were present.
He said that whichever the political party they belonged to, they tried to do their best when the President requested them to do so.
But, a Stay Order was given by the Supreme Court. Then, they had stepped down thinking about the situation of the country.
He said that however, he believed that the people were with them.
He also wished the new Prime Minister Ranil Wickremesinghe.
He said that it was not by a conspiracy that they came to power.
"Rajapaksas do not come through the back door to power," he said.
He also promised to build a country where people were not burdened with taxes.(Aneesha Manage)