---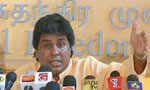 The National Freedom Front (NFF) said today media freedom was under siege brought about by the several threats being made by the current government.
Parliamentarian Jayantha Samaweera told a media conference that Prime Minister Ranil Wickremesinghe had made strong statements against the media.
"When this government assumed office it claimed that it will assure media freedom, but what's happening now is quite different. It has accused journalists and reporters in public and described them in demeaning terms. When we consider Sanka Amarajith's case it is clear that this government is again moving towards what happened to Richard De Zoysa. Why is President Maithripala Sirisena remaining silent in the midst of these controversies," he said.
Mr. Samaraweera claimed that the Task Force for Reconciliation (TFR) set up by the Prime Minister was bound to lead the country towards the division of the country. (Kalathma Jayawardhane)
Video by Richan