---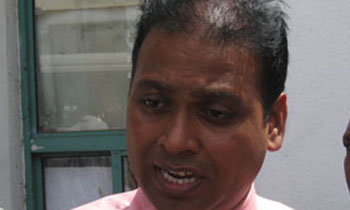 The Parents' Union of Medical Students (PUMS) said today that it would brief the international community through the embassies in Sri Lanka and UNHRC in Geneva over the violation of Human Rights by imprisoning university students without evidence of damaging state property.
PUMS vice president Dr. Sunimal Jayakody said the Government Medical Officers' Association (GMOA), Federation of Medical Teachers' Association (FMTA) and Medical Faculty Students' Union would also join in the campaign.
He said they would initially hand over a petition to the British High Commission today and added that they would not produce photographs and videos of the attack and human right violations as it would tarnish the image of the country but they would have to do so in the future if the students were not released.
He told a news conference that their repeated demands to release the five students who were remanded over the protest at Health Ministry had yielded no benefits as yet.
He said they condemned the attack on university students, who were protesting against the SAITM and added that the government should come up with a reasonable solution to the issue rather than trying to suppress the students' struggle.
Medical Faculty Students' Action Committee Convener Ryan Jayalath said the government should abolish SAITM immediately and added that they would resort to a huge struggle if the Government was trying to suppress their struggle.
He said it was a huge lie to take over the Neville Fernando Teaching hospital (NFTH) and added that it was a misuse of State funds to do so. (Ajith Siriwardana)
Video by Buddhi