---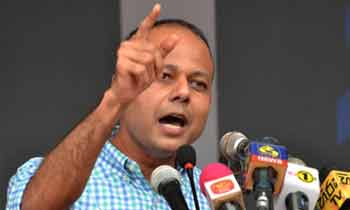 A mechanism has been put in place to arrest and bring back the underworld gang leaders who are operating from overseas, Law and Order Minister Sagala Ratnayake said.
He said the day when the drugs and the underworld would be wiped out from the country was not too far away.
"We are continuing to conduct raids and no one can stop that. No one can interfere our programme to eradicate and eliminate narcotics and underworld gangs from this country," Minister said.
He said a total of 13.6 kilos of heroin which has a street value of over Rs. 135 million had been detected by the Special Task Force (STF) and the Drug and Organized Crimes Division during raids conducted this year.
The STF had recovered around 5.3 kilos of heroin valued of Rs. 53 million between the period of January to December 27 this year while the Drug and Organized Crimes Division which was established in August had recovered more than 8.2 kilos of heroin worth over Rs. 82 million.
Minister Ratnayake said the STF arrested a total of 303 suspects from 285 raids during this year. Out of those raids, the Drug and Organized Crimes Division had arrested 167 suspects from 160 raids, he said.
The Minister said that measures has been taken to eradicate drugs and organized crimes. "Raids are being conducted in a more subtle manner," he said. (Darshana Sanjeewa)