---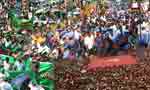 Four main May Day rallies –that of the UNP, the SLFP, the Joint Opposition, and JVP are underway with the participation of party supporters in Colombo, Havelock Town and Galle.
President Maithripala Sirisena arrived to Galle meeting and PM is at the UNP rally in Campbell Park in Colombo.
Former President Mahinda Rajapaksa is at the Joint Opposition's rally at Kirulapone, while the JVP leader is attending its rally at BRC Grounds in Havelock Town.
Heavy traffic congestion is reported between Dodangoda and Galanigama interchanges of the Sothern Expressway.