---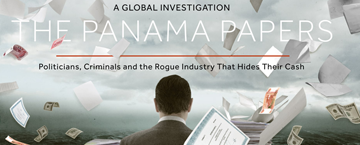 A massive leak of 11.5 million documents has exposed the secret offshore dealings of late father of British Prime Minister David Cameron, world leaders and celebrities including Barcelona's Lionel Messi, India's Amitabh Bachchan and his daughter-in-law Aishwarya Rai Bachchan .
An investigation by more than 100 media groups, described as one of the largest such probes in history, revealed the hidden offshore assets of around 140 political figures.
The vast stash of records was obtained from an anonymous source by German daily Sueddeutsche Zeitung and shared with media worldwide by the International Consortium of Investigative Journalists (ICIJ).
The documents, from around 214,000 offshore entities covering almost 40 years, came from Mossack Fonseca, a Panama-based law firm with offices in more than 35 countries.
The investigations allege close associates of Putin, who is not himself named in the documents, "secretly shuffled as much as $2 billion through banks and shadow companies".
Twelve current or former leaders are named in the investigations, including the prime minister of Pakistan, the president of Ukraine and the king of Saudi Arabia, as well as sporting and movie stars including Jackie Chan.
They allege Chinese President Xi Jinping's family has links to offshore accounts, as did the late father of British Prime Minister David Cameron, and claim Iceland's premier secretly had millions invested in the country's banks during the financial crisis.
Xi has led a high-profile anti-graft drive in China, targeting the excessive wealth accumulated by Communist Party cadres.
The leaked data features over 500 Indians linked to offshore firms.
Among those who figure on the list are film stars Amitabh Bachchan and his daughter-in-law Aishwarya Rai Bachchan, Delhi Land and Finance owner K P Singh and nine members of his family, promoters of Apollo Tyres and Indiabulls and business tycoon Gautam Adani's elder brother Vinod Adani.
Mumbai's late gangster Iqbal Mirchi and two politicians Shishir Bajoria from West Bengal state and Anurag Kejriwal, the former chief of the Delhi unit of Loksatta Party, also figure on the list.
The Indian Express, which was a partner for The Panama Papers project said while the Reserve Bank India let individuals buy shares under liberalised remittance scheme, it never permitted them to set up companies abroad. The Mossack Fonseca documents allegedly show companies were set up long before the rules were changed, and the purpose may have been to park foreign exchange in a tax haven.
The papers also cast fresh light on the corruption scandal engulfing football's world governing body, revealing that FIFA ethics committee member Juan Pedro Damiani had business ties with three men who have been indicted in the probe.
Disgraced UEFA chief Michel Platini allegedly used Mossack Fonseca to administer an offshore company, while Messi and his father apparently own a shell company not discovered in a Spanish investigation into the football star's tax affairs.
Platini denies wrongdoing.
"I think the leak will prove to be probably the biggest blow the offshore world has ever taken because of the extent of the documents," said ICIJ director Gerard Ryle.
One of the law firm's founders, Ramon Fonseca, told AFP the leaks were "a crime, a felony" and "an attack on Panama".
"Certain countries don't like it that we are so competitive in attracting companies," he said.
Panama's government said it had "zero tolerance" for any shady deals, and vowed to "vigorously cooperate" with any legal investigations.
Though most of the alleged dealings are said by the ICIJ to be legal, they are likely to have a serious impact on many of those named.
Iceland's Prime Minister Sigmundur David Gunnlaugsson is expected to face a no-confidence vote this week over allegations he used a secret offshore firm called Wintris Inc. to hide money in the British Virgin Islands.
The investigators claim he owned millions of dollars of Icelandic bank bonds during the financial crisis, when the country's entire financial system collapsed and its lenders had to be bailed out.
"I have never hidden assets," Gunnlaugsson told a journalist from the Swedish SVT channel. "It's a bit like you're accusing me of something," he added, visibly irritated, before calling off the interview.
At least 33 people and companies listed in the documents were blacklisted by the US government for wrongdoing, including dealings with North Korea and Iran, as well as Lebanon's Islamist group Hezbollah, the ICIJ said.
Japan's Asahi Shimbun reported 400 individuals and companies had been named, while Australia said it has launched an probe into 800 wealthy Mossack Fonseca clients.