---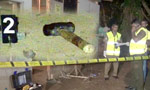 A mason (50) working at a construction site had been reported missing, the Moratuwa Police said.

The missing person has been identified as W. Vivekananda, a resident of Kalmunai.

A blood stained piece of cardboard and also a blood stained hammer with a few strand s of hair on it had been recovered near the bed in the room, the Police said.

However, the Police also said they suspected the man, who was missing from Friday night might had fallen into Bolgoda Lake .

A bag belonging to the missing person and a purse have also been found.

Mason who was staying with the missing man was taken into custody on suspicion. (Bimal Shaman Jayasinghe)