---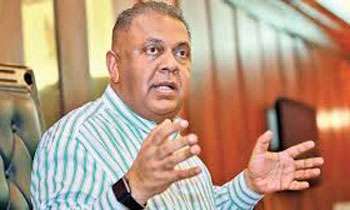 Finance Minister Mangala Samaraweera today requested railway employees to stop the strike and come for discussions and ensured to resolve their salary anomalies within three months.
The minister told parliament that as a policy, he would not be ready to hold discussions with any trade union unless they stop the strike before discussions and added that he had not done so in his 30-year political career.
He said he objected to the cabinet paper presented in the cabinet to increase salaries of railway employees as it could have been led to a crisis in the entire government sector.
"If the salary of engine drivers were increased as proposed in the cabinet paper, it could have been led to a huge salary anomaly with other sectors of the government service," he said
The minister said he had proposed to appoint a commission and increase salaries of all state employees within two or three months but a sudden strike was launched unreasonably.
He said the government had taken several steps to facilitate people including the students sitting for A/L examination.
"We have allowed private buses to operate without route permits and requested retired engine drivers to report for duty. We have arranged a special bus service. Any private bus owner can get registered with the finance ministry and operate for passenger services. Finance ministry is ready to bear the cost," he said. (Ajith Siriwardana and Yohan Perera)