---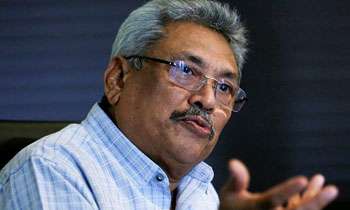 Former Defence Secretary Gotabhaya Rajapaksa on Sunday said Finance Minister Mangala Samaraweera was spreading false propaganda against him because the minister was aware of his ability.
He recalled how Minister Samaraweera pasted posters against Prime Minister Ranil Wickremesinghe during the time of President Chandrika Bandaranaike Kumaratunga.
"Recently, Minister Samaraweera said he knew Mr. Wickremesinghe could perform well and that was why he pasted posters against Mr.Wickremesinghe. Similarly, he has initiated a false propaganda campaign against me and I can say this is because he knows I can," Mr. Rajapaksa told an event organised by the Federation of National Organisations in Badulla.
He said the minister's special statement which said Gotabhaya Rajapaksa was the most corrupt and dangerous government official and should not be brought to power had been issued amid many crises on the economic front.
"The government has increased taxes and the prices of essential items. There is no development in any sector. Businessmen and entrepreneurs are going through a difficult time while local and foreign investors get discouraged. Minister Samaraweera who is responsible for these, issues a special statement about me. When he was the Foreign Minister, he went to Geneva and co-sponsored a resolution against the country even without informing the President. After he was appointed Finance Minister, taxes were imposed as per the needs of the IMF and the cost of living increased. Without replying to these issue, he uses his old Goebbels theory, thinking that people can be taken for a ride. We need to oust selfish politicians and elect those who can work for the betterment of the country," Mr. Rajapaksa said.
He said Minister Samaraweera approached him several weeks prior to the presidential election in 2014 with the intention of joining then president Mahinda Rajapaksa.
"In 2014, two weeks before calling for nominations for the presidential elections, an associate of Mr. Samaraweera named Ruwan Ferdinandez phoned me and said he wants to meet me. He said I have to bring all elements together to strengthen Mahinda Rajapaksa for the presidential election. He said Mangala Samaraweera is ready work with me to join the government, to which I replied saying I'm a secretary and therefore, Mr. Samaraweera should contact president Mahinda Rajapaksa. Then, Mr. Ferdinandez said I'm the most reliable person in the then government and the arrangements should be made with my intervention. I said I will inform the President but the rest is up to him and Mr. Samaraweera. After that, discussions were held between president Rajapaksa and Mr. Samaraweera who requested the ministerial portfolios of Foreign and Justice. Another set of meetings were held with Basil Rajapaksa and another friend of Mr. Samaraweera submitted their requirements in writing. The then president rejected the request and therefore, Mangala went against Mahinda Rajapaksa. These kind of politicians have no principles and their concern is their own benefit and not the country. At the end of 2014, Gotabhaya Rajapaksa was the most reliable person in the government and was ready to work with him in order to join that government. Today, statements are being issued saying Gotabhaya Rajapaksa is the most corrupt out of the fear that I would come to power. These politicians put personal needs first and they attempt to retain power by any means. We know this person was a minister in many governments.What did he do? I have done more than him during the two and half years I was given to develop Colombo," Mr. Rajapaksa said.
He said the previous government didn't keep pointing fingers at people or locked horns with political opponents.
"We had work to do. We didn't keep blaming the Opposition or fight with political opponents. We were fighting with the ruthless terrorists who killed innocent civilians and damaged properties," he said.
He said what the country requires at the moment is a team who can work efficiently, identify policies and challenges in order to create polices to face those challenges.
"We shouldn't wait until the last moment to create policies after coming to power," Mr. Rajapaksa said.
Meanwhile, he said the government keeps opening projects almost completed by the previous government in order to score points.
He also said there is no national security in the country today. "The country should be stable and the security should be established in order to develop the country. Otherwise, no investor will come to Sri Lanka," he said. (Lahiru Pothmulla)