---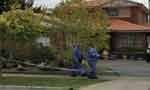 A man has been remanded in custody after being charged with the murder of a woman at Hoppers Crossing, in outer Melbourne.
Prasad Somawansa, 48, was alone in the family's Barber Drive home when her husband became concerned that he had not been able to contact her by telephone for hours.
A friend went to the house on Thursday and found the front door open and Ms Somawansa's body was discovered inside.
Sigaragh Baea, 21, from Lara, has appeared in court and will be held in custody until his next court appearance on Tuesday.
Police said the family had moved to Australia from Sri Lanka in 1999.
The house had not been ransacked, but police said it was too early to say if anything had been stolen.(ABC)