---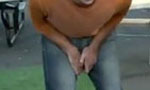 A Sub Inspector had his genitals bitten when he tried to stop a group of drunkards at a railway level crossing in Kosgoda last night.
Two individuals had been arrested following the incident, the Police said. The other was arrested for obstructing the inspector in carrying out his duty.
The Sub Inspector and a number of Police officers had asked the two suspects, who were drinking alcohol near a railway crossing, to leave the premises.
In the altercation between the suspects and the Police officers, one suspect had bitten the Sub Inspector, who had tried to intervene in the matter.
The Sub Inspector has been admitted to the Balapitiya Base Hospital, where he underwent a number of surgeries, according to Police. (Janath De Silva)