---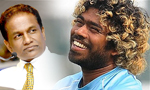 Sri Lanka Cricket today said that Lasith Malinga could not play the cash-rich Indian Premier League (IPL) unless he was cleared by SLC's team of doctors.

Malinga, who led Sri Lanka to the 2014 World Twenty20 title pulled out of this year's tournament, due to a recurring bone-bruise in his left-knee, but tipped to play for the Mumbai Indians at the IPL from the second half of the tournament.

"He cannot play in the IPL unless he gets the clearance from the team of doctors appointed by us," SLC Chief Thilanga Sumathipala said.

"Once he informed us of his state of injury, we will ask our medical experts to assess his injury to decide, whether he is fit to play or not," he added.

Sri Lanka Cricket has also initiated a disciplinary inquiry against Malinga for making public statements without permission.

On the eve of his departure to India, Malinga made a scathing attack on the cricket administrators for allegedly meddling with selections and also faulted the selectors for picking him for the World Twenty20 with an injury.

"Malinga has to realise that he is dealing with a new set of cricket administrators. Had we running cricket seven-years ago, he would not be making these comments today. We will deal with him for what he has said. But if he is cleared to play by the doctors, we have no issue him representing Sri Lanka," Sumathipala added. (Champika Fernando)
Video by Buddhi