---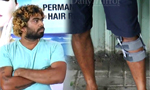 Fast bowler Lasith Malinga is suffering from a knee stress reaction due to his bowling style and therefore should take a rest for the betterment of both himself and the country, said Dr. Harindu Wijesinghe, the chairman of the SLC Medical Committee today.
Malinga appeared before expert doctors for a medical examination at a private hospital in Colombo today.
Dr. Wijesinghe said if more pressure was put on his knee, the condition could develop into a stress fracture, a condition which needs surgical intervention. "Malinga's knee bone had got infected resulting in the stress reaction. If the pressure on his knee continues, he may need surgery. Therefore, it is advisable that he take better rest," he said.
He said Malinga had had the same condition in 2009 and abstained from playing for a long period due to this.
He said they would give physiotherapy treatment to Malinga plus other treatments, while observing his condition and take a scan following the treatment to decide if he had recovered. "We cannot determine an exact time frame for the recovery," he said. (Lahiru Pothmulla and Sanath Desmond)
Video by Buddhi