---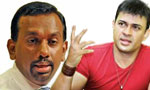 Joint Opposition MP Mahindananda Aluthgamage today sent a letter of demand to Deputy Minister Ranjan Ramanayake and Kandy District MP Ananda Aluthgamage demanding Rs. 500 million each, over alleged defamatory remarks made against him.
Mr. Aluthgamage said he would take legal action against the duo, if they failed to pay the amount within two weeks.
Deputy Minister Ramanayake on Tuesday at a news conference alleged Mr. Aluthgamage had used an unregistered Defender vehicle to carryout illegal activities including assaults.
He said the vehicle had been parked at the premises of Parliamentarians Quarters at Madiwela.
Mr. Ramanayake had also claimed that UNP MP Ananda Aluthgamage was the one who gave him the information about the vehicle.
Addressing the weekly news briefing of the Joint Opposition today, MP Mahindananda Aluthgamage denied the allegations and said Deputy Minister of Sports had admitted that the vehicle belonged to him.
"The allegations are mere fabrications. Mr. Ramanayake is acting in Parliament as well. He should know that Parliament is not a theatre, where he can fool others by playing different characters," he said.
It was also reported that Mr. Ramanayake and Mr. Aluthgamage had exchanged blows in the Parliamentary complex over the incident.
However, Mr. Aluthgamage denied the reports and said only words were exchanged, not blows. (Lahiru Pothmulla)
Video by Sanjeewa