---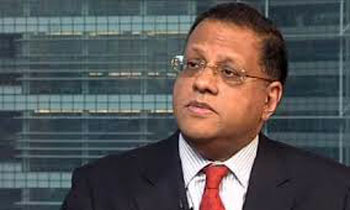 Acting Solicitor General Dappula de Livera PC requested the Commission to adjourn proceedings for two days prior to the Attorney General's Department officials cross-examine former Governor Arjuna Mahendran, who testified before the Commission.
Filing an application before the Commission through a motion, ASG De Livera observed that Arjuna Mahendran testified before the commission after having listened to almost all proceedings of the PCoI since he was permitted by the PCoI to sit and to hear the proceedings from the very beginning.
Mr. De Livera said the officials assisting the PCoI have to go through a bulk of material and evidence which is contradictory to what Mahendran has testified. Therefore he requested the proceeding to be adjourned for two days before they begin the cross-examination.
Considering the volume of evidence placed before the Commission, Mr. De Livera was of the view that Mr. Mahendran's testimony is critical to the inquiry, and to conduct an effective and relevant cross-examination they need time to prepare.
However, President's Counsel Romesh de Silva objected to the stance, moving that there was no prior notice regarding such a request from the officials from the AG's Department.
Disagreeing with ASG De Livera's stance, Mr, De Silva said the officers assisting the Commission knew about Mr. Mahendran's evidence and they had enough time to prepare. He said it was because of the cogent evidence given by Mr. Mahendran that the officials were seeking more time before the cross-examination.
The Commission however, allowed the AG Department officials time to prepare before cross-examining the witness and adjourned the proceedings til Friday.
The Presidential Commission of Inquiry (PCoI) comprising Justice K. T. Chitrasiri (Chairman), Justice Prasanna Jayawardane and Retired Auditor General Kandasy Velupillai will meet at 10 am on Friday. (Shehan Chamika Silva)